In the world of weddings, every detail matters. Each element comes together, from the enchanting venue to the delicate flowers, to weave a tale of love and celebration. Nestled within this realm is Alyssa's Kitchen, a magical place where dreams are crafted into reality through exquisite wedding cakes and custom desserts.
Alyssa, the creative genius behind the scenes, possesses an unparalleled passion for turning couples' visions into delectable works of art. With a keen eye for design and a mastery of culinary arts, she weaves her magic to produce bespoke wedding cakes that stand as both centrepiece and masterpiece. These cakes not only tantalise the taste buds but also reflect each couple's unique story and style, making their special day even more memorable.
Recently, Alyssa's dedication and talent were recognised in a heartwarming surprise from Easy Weddings, which awarded Alyssa's Kitchen the prestigious Certificate of Excellence for 2023. Easy Weddings is Australia's largest and longest-running digital wedding platform, celebrating its 23rd year. This accolade reflects the quality of Alyssa's creations and the love and commitment she pours into each confectionery masterpiece.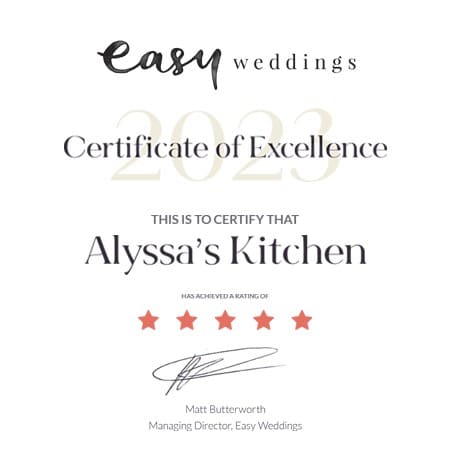 Alyssa's Kitchen has undoubtedly carved its place in the heart of the wedding industry, adding a touch of sweetness to the most cherished moments. With the Certificate of Excellence as a testament to her artistry, Alyssa eagerly anticipates the opportunity to create many more wedding cakes that will make couples' hearts flutter and their celebrations truly unforgettable.